Dialtune uses 10-ply maple snare shells that express warm tones, a very wide tuning range, and a sound that works very well for all styles of music. The tonal quality is produced by multi-ply shells of hand-selected maple, and they offer excellent resonation throughout the tuning range. Tuned tight, these shells deliver plenty of snap and crack, middle range is bright and robust, while tuned looser, the sound is punchy with good reverberation.
Specifications
6.5x14" 10-ply Keller maple shell
dialtune patented cable tuning system

Die cast metal lugs
Independent tuning dials for top and bottom drumheads
Braided Kevlar cable rated at 700-lbs, doesn't stretch and carries no memory. Restringing cable takes between 5-15 minutes
Patented quick release hoops  

Finish stains come in Natural, Espresso, and Honey Maple
---
Getting Started
Everything you need to know, click below: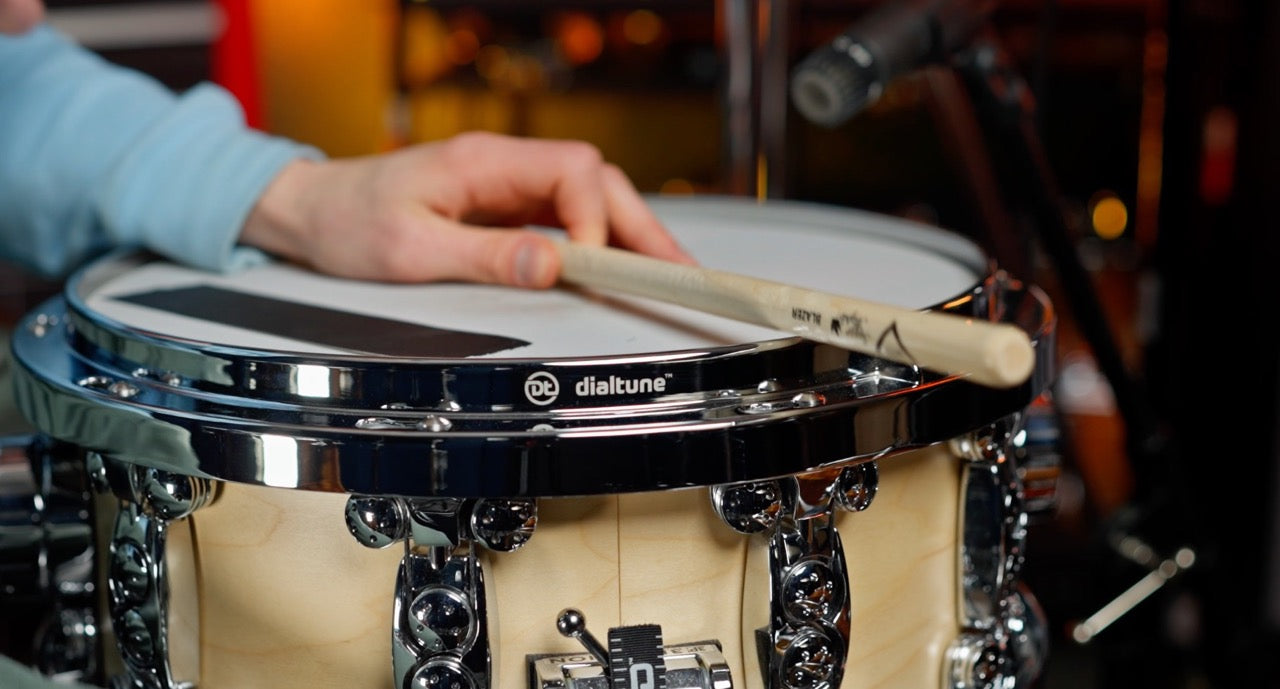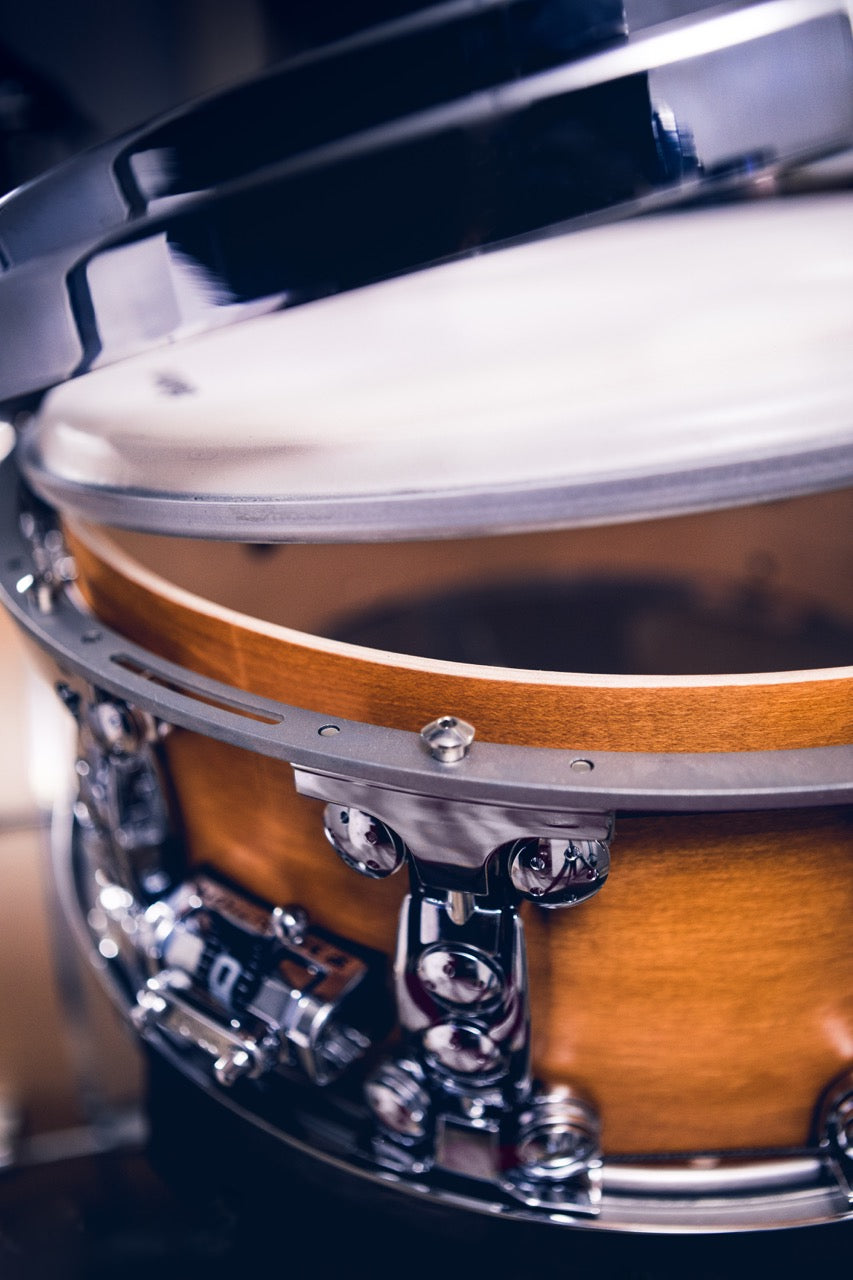 Amazing care and quality product!
I wanted to ensure I was changing the head correctly and getting the best sound out of my snare. I didn't want to mess up the snare and was getting used to using the dial instead of the lugs which I was used to.
I had the pleasure of meeting one of the owners in the Seattle area and they went through basic tuning and how I could get the best sound for my snare.
I was given several extra cables and a snare wire to try for free. Once you own a snare you are able to get discounts off of future gear and a lifetime warranty on their maker's series snare.
Really appreciate the care and time DialTune takes. Absolutely recommend the products and the people at Dialtune! You'll be in great hands.
An amazing drum
Used my new dialtune drum for its first gigs this week and really amazed at its versatility- the ability to get a different tuning per tune is a real game changer. Not to be overlooked is that it also a great sounding drum, it's not just the tuning components that make it great instrument.
I also run a college percussion program and will be trying to get one of these for the school - what kind of difference will it make in every rehearsal and performance to have a drum that is in tune even for the least experienced players? I think the effect will immeasurable for the whole program.
Dialtune till I Die 🙌🏽🔥💥🏆💎
I'm a church drummer and I play a lot of contemporary music and gospel . And let me tell you Dialtune snare drum is the way to go hands down!!!Worth every penny . This snare drum tunes quick and stays tuned . I tuned up for the high energy songs and it sounded like a piccolo on steroids. I tuned it mid high and low and sounded full and beefy . And finally when it came down to a ballad I tuned it down and it sounded Fat and greasy! The sound guy was in shock that this snare drum was able to tune up and down so quickly . Last but not least the cross sticking sounded HUGE AND CLEAN!!! Overall this snare drum is A1 sauce!!!! Thank you Dialtune! You guys are AMAZING!!! I'll be buying another one next year!
Great drum but… tuning is uneven
I bought the maple dial tune. It's great but has an issue. It does not tune evenly no matter what new head I put on it. When I gently hold my finger in the head center and tap around the rim, there are slight variations in harmonic pitch no matter how high I pitch the tension. It's not even all the way around. I think the rim is uneven. Help?
With a regular snare drum with tension rods, it would take me a few seconds to tap and tune the harmonics so that the drum is ready for the gig. I can't seem to do this with this drum. I can change the tension overall but the slight unevenness in pitch across the head lingers at any tension setting. Is this a defective drum?
Mike Masuda
Hi Mike,
The dialtune system is designed to provide a clean, even tone across the tuning range, while allowing for instant flexibility and adjustment on the fly. That being said, it is normal to experience very slight variations between lug points, due to the multitude of variables involved in the system. Overall though the drum should sound good at virtually every tuning .
If you are experiencing an uneven or unusable sound, or the variance in pitch between lug points is extreme, then there could be something else going on with that particular drum. I know that our support team has reached out to you and we are happy to take a look at your drum at any point if there appears to be an issue.
Thank you for being a part of the dialtune family!
-Bryan Bedson, Founder
Game Changer
My wife bought me the expression maple snare for my birthday! So excited to get it finally as I've wanted it so much. This snare is such a game changer, for the quick head changing alone, but you get so much more. It looks beautiful, though quite heavy, but packs a punch. At a low tension it sounds great, even with hardly any tension it maintains a great gushy tone, and can crank it up as much as you like quickly. My ears have had to adjust to hearing a snare that is pretty much perfectly in tune all the time, which we've never really heard based on variables in tension rods. I love the flexibility and ability to easily experiment with sounds by changing tension, but also change heads in 30sec. I'll say it again, the quick change hoops is a real game changer and can't be overstated how unique and powerful it makes this drum. The product and the people behind it are quality and appreciate the innovation very much!